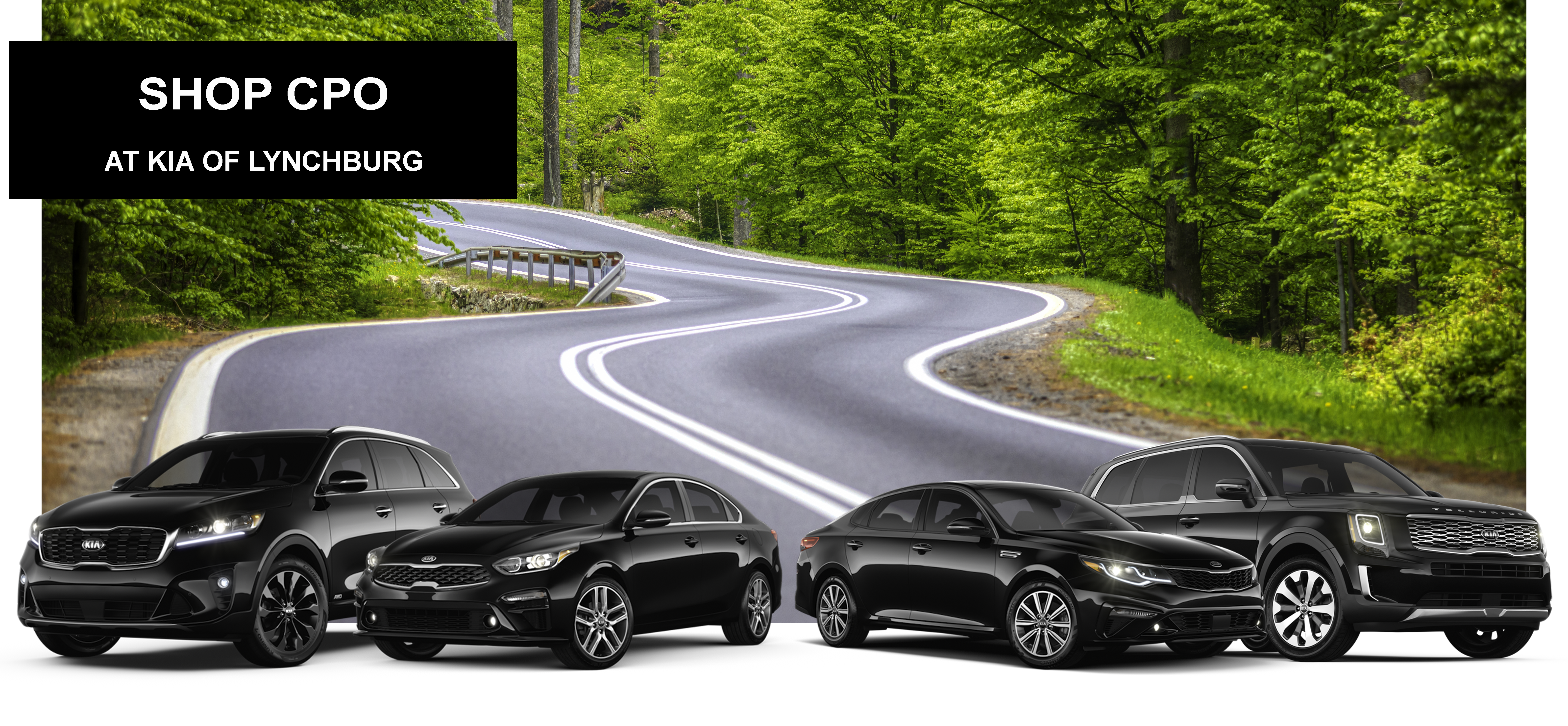 CPO Kia Dealer in Lynchburg, VA
It will be time to go shopping for a vehicle at some point. This can be a stressful, even overwhelming, experience for some people. Financially, it is one of the biggest purchases you will ever make, which is why you need to ensure that you are doing what is best for your budget and daily driving needs in Lynchburg, VA. If you want to spend less but still get a high-quality vehicle, you should look at CPO Kia cars. The pre-owned program with Kia and Kia of Lynchburg offers many benefits - not just in how much you will save over buying a new car. Come by the dealership today and check out the inventory. Then learn how you can take advantage of CPO Kia SUVs, cars, and trucks. 
Certified Pre-Owned Vehicles in Lynchburg, VA
As you start your shopping experience, you may start to ask, "What's in a CPO Kia near me program that should intrigue me?" After all, it may make you nervous to buy a pre-owned model. A car with more miles on it is likely to have some mechanical troubles sooner than a newer counterpart. But the good news is used cars hold their value better. Plus, with CPO cars in Lynchburg, you get something that looks and runs more like a new vehicle than an older faltering model. 
These cars are lower in miles, usually with less than 80,000. You may find in the Kia of Lynchburg inventory models that are just a few years old that are in the 40,000-mile range. The certified pre-owned vehicles here are also in good condition and are ready for the road. You can feel good knowing this because of the rigorous inspections the CPO vehicles undergo. A certified, qualified technician will carefully go through a 164-point quality assurance check, verifying that all major parts, components, and systems are in proper working order. These include the engine, transmission, exhaust, electrical system, heating and cooling, suspension, brakes, and much more. Even the interior will be in good shape with all features doing their jobs well. 
Benefits of Buying CPO
If you are asking additional questions such as, "What are the advantages of getting CPO cars near me?" wait until you hear the pros of buying certified pre-owned models from Kia of Lynchburg. When you buy a CPO vehicle here, it will come with a 12-month/12,000-mile limited warranty as well as a 10-year/100,000-mile powertrain warranty. This is good news if you were worried about the original factory warranty expiring, leaving you with the prospect of paying for major repairs. 
There are more reasons to consider CPO Kia trucks, SUVs, and cars. This program gives you 24-hour roadside assistance, which will include tows and travel breakdown coverage. You can even get into a rental car if your vehicle is not usable for a time. 
Another benefit is that you will have access to the vehicle's history, allowing you to see if it has been in any accidents. You can look at recent service and other work that owners have done to the car. This CARFAX vehicle report is free when you get a certified pre-owned car at the dealership. 
Certified Pre-Owned Vehicles for Sale in Lynchburg, VA
The inventory of CPO Kia vehicles continues to grow. The sales team is waiting to chat with you about getting into a quality vehicle that you can drive daily with peace of mind in Lynchburg, VA. Visit the showroom at Kia of Lynchburg today and see which model meets your needs and excites you the most.